The North and South league finals are set in the AMBHL after four 2nd round sweeps.
The Fort Saskatchewan Rangers defeated the Leduc Oil Kings 3-1 to advance in the north and will now play Sherwood Park in the north final.  Both Sherwood Park and Fort Saskatchewan were the top teams in the north all season long.  The series will feature the depth of the Sherwood Park Flyers vs. the high end talent of Fort Saskatchewan.  Sherwood Park allowed just 77 goals this season in 33 games to lead the north while Fort Saskatchewan's 180 goals in 33 games lead in that category.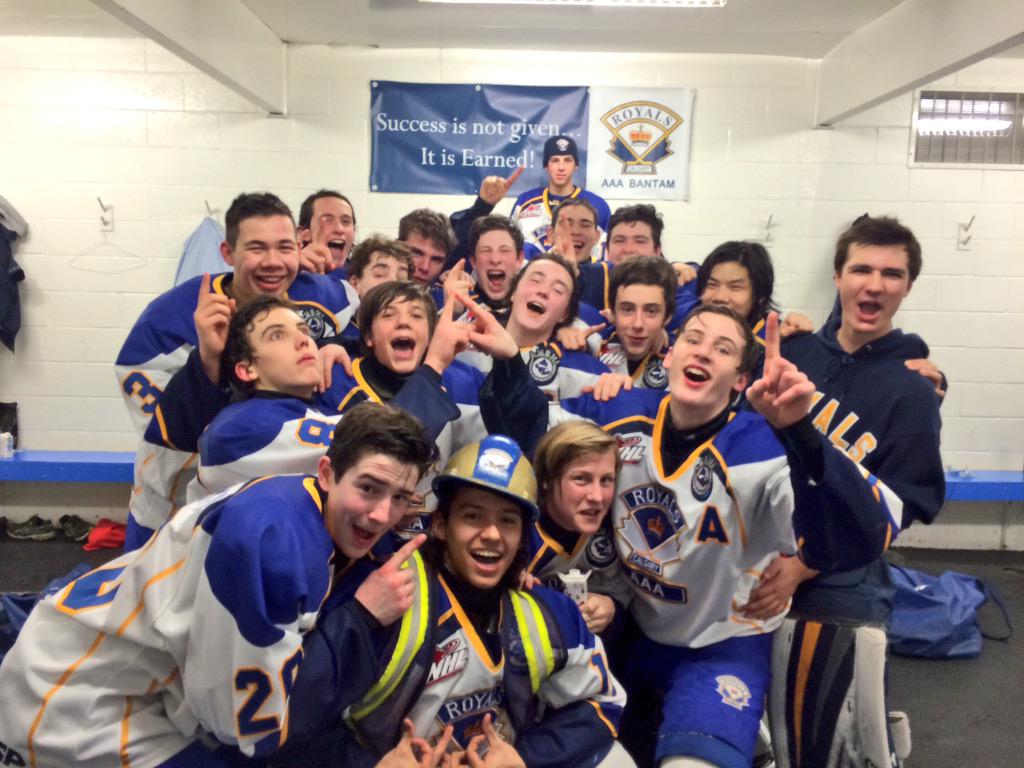 The Calgary Royals pulled out their 2nd consecutive upset last night by sweeping the Calgary Bisons 2-0 in the best of 3 division final.  Zane Kindrachuk scored the GWG last night in the 4-2 win.  The Bisons were the top ranked team in Alberta entering the playoffs and finished 17 points ahead of the Royals in the regular season standings.
—————————————
SBAAHL Round 1 Playoffs
The West Central Wheat Kings complete a best of 3 series sweep over the Saskatoon Bandits last night after a 6-2 win.  The Wheat Kings finished the regular season in 2nd last place in the SBAAHL North with a record of 6-19-6.  In the clincher, the Wheat Kings had just 16 shots on goal but scored on 6 of them led by 2001 born Casey McDonald and 2001 born Troy Joyce who each scored twice.  Joyce had just 8 points in 31 regular season games but already has 4 points in 2 playoff games.
The Battlefords Barons stay alive in their best of 3 series by outscoring the Saskatoon Outlaws 7-5.  The Barons regular season scoring leader and one of the league leaders Ty Mosimann scored 3-1-4.  Mosimann, who finished the SBAAHL regular season with 36-35-71 already has 4-2-6 in 2 playoff games.  For the Outlaws, Tristen Shewchuk and Connor Gabruch each had 2-1-3.
The Notre Dame Bantam AA Hounds defeated the Melville Millionaires 3-2 to force a third and deciding game.  Zane Pollon had 1-1-2 for the Hounds.  The Millionaires outshot the Hounds 39-13 but Riley Kohonick was once again very strong and has proven to be someone to consider for the bantam draft.
Lastly from yesterday, it was the Weyburn Red Wings making quick easy work in their series with the Moose Jaw Warriors by sweeping them 2 games to 0 and outscoring them 18-2 after a 8-0 win last night.  2001 born Braden Birnie and Cordel Larson each had 2 goals to led the way while Nolan Renwick (0-3-3) and Jaydon Dareau (1-3-4) also had big games.  Braden Birnie and Nolan Renwick each put up a team leading 5 points in the series.
Sunday's Matchups
Saskatoon Generals vs. Saskatoon Maniacs (Best of 3 series tied 1-1)
Saskatoon Outlaws vs. Battlefords Barons (Best of 3 series tied 1-1)
Melville Millionaires vs. Notre Dame Hounds (Best of 3 series tied 1-1)
—————————-
BC Bantam Playoffs
The Kamloops Jardine Blazers open up the best of 3 OMAHA league final with a 6-3 victory over the Kelowna Jr. Rockets.  The Blazers got goals from 6 different players.  Team scoring leader Seigi Brown picked up 3 assists, Ryan Chyzowski and Brendan Roche each had 1-1-2.  Chyzowski has put up 10-3-13 in his 7 games since returning from his season long injury.  He has also put up 2 pts in 2 midget league games.  The Blazers can wrap up the league championship today in Kelowna.
The Victoria Racquet Club Kings drew first blood in the VIAHA league final with a 7-3 win over Nanaimo.  Game 2 and game 3 if necessary go next weekend.
—————————-
CSSHL League Play
CSSHL regular season play is drawing to a close and the top ranked and CSSHL first place Delta fell 4-1 to OHA and finished the season with a 12-4-2.  Delta had to play their final 2 games of the regular season with out #1 overall ranked bantam prospect Ty Smith who is away at the Canada Winter Games.  Delta, who outshot OHA 33-15 got their lone goal from power forward Matt Mosher While OHA got 2 goals from Ty Kolle.  Kolle led OHA in scoring this year with 6-12-18 in 18 games, currently sitting 6th in league scoring.
POE defeated the Edge Mountaineers for their 2nd win over them in 2 days.  Both teams are now 7-10-0 and will wrap up the league's schedule with another game today.  For POE, Eli Zummack picked up 2-1-3 to pace the attack has a team leading 7-13-20.  Zummack has also put up 6 points in 4 games with the Elite 15's.  Edge got their lone goal from Kash Rasmussen, his 3rd of the season.  League goal scoring leader Tristen Nielsen was held off the score sheet and sits at 17-7-24 in 17 games heading into the final game of the season.  His 24 points are 4 back of scoring leader Ty Smith.
————————-
Odds and Ends 
– The Canada Winter Games Mens/boys Hockey begin this afternoon in Prince George, BC.  The tournament is for the 1999 born age class but there are two high end western Canada prospects in the 2000 age class who are their as underage players.  Ty Smith for Team Alberta and Jett Woo from Team Manitoba.  A few others to watch are Yukon 2001 forwards Bryce Anderson and Dylan Cozens who are likely heading to a prep school next year.
– Several 2000's are now getting a look in Midget hockey with their teams out of the bantam hockey playoff races or having time off.  Example was last night as the Prince Albert – Moose Jaw SMAAAHL game had several 2000 born prospects in the game but it was 2001 born Logan Barlage who scored his 1st goal in his 1st game.